Message from the President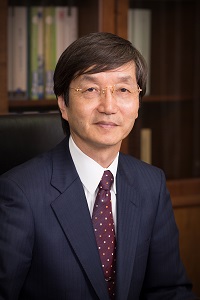 President's Message, 2016
YAMASHITA Kazuo
"The Child's Spirit and the Adult's Wisdom"
-Let us together learn to cherish the value of both at the Naruto University of Education
The Environment is a Silent Education
 The Naruto University of Education is located in Seto Inland Sea National Park. The university's surroundings include the dynamic Naruto whirlpools, Ryōzen-ji Temple, which is the first stop on the 88-temple Shikoku Pilgrimage, and the Ōtsuka Museum of Art, which houses an exhibit of ceramic plate reproductions of Western works of art. Only two hours by highway bus from Osaka, the park draws large numbers of tourists and pilgrims.
 A scenic and shining idyll of sapphire sea and emerald trees, our university's extraordinarily beautiful campus is conducive to an expansive atmosphere that encourages contemplative and studious effort. Our first president, Yoshiaki Maeda, in the belief that "the environment is a silent education, and the environment and structures of the university are wordless teachers," involved himself from the initial design stages in order to create one of the most beautiful campuses in Japan.
A Distinctive Library
 In addition to the buildings, our university also offers substantial educational facilities. For example, our library, which features the collections of Hama Ōmura and Junya Noji, is akin to holy ground for those studying Japanese language education. In addition, this national university is home to an advanced Children's Library, which provides space for interactions among students, children, and local citizens. In 2012, the library was awarded the School Library Prize by the Japan School Library Association; this was the first award won by the university's library.
Origins
 Our school was founded on October 1, 1981 as an innovative university designed to enhance teacher training to offer mid-career training for teachers and to carry out advanced pedagogical research, and later admitted its inaugural class to its graduate school (Master's course) in April of 1984.
 Thereafter, the inaugural class of students in the Faculty of School Education and Teacher Graduate School (Professional Degree Course) were admitted in April of 1986 and April of 2008, respectively. In addition, the school is also a partner in the Joint Graduate School (PhD Program) in the Science of School Education based at the Hyogo University of Teacher Education, established in April of 1996.
A Leading University in Teacher Education
 Since its founding, our school has striven to fulfill its mission as a leading university in teacher education. As a part of its success, it has ranked first in terms of its graduate employment rate as teaching faculty for six consecutive years. The faculty employment rate for students completing graduate school (excluding mid-career teachers) is also very high, particularly among those completing Teacher Graduate School, who have also been ranked first for two years in a row, with an employment rate of 100%.
 In addition, we have engaged proactively with the issue of bullying in schools. In partnership with the Miyagi University of Education, Joetsu University of Education, Fukuoka University of Education, and other groups including Boards of Education across the country, our school has become a key participant in initiatives for education, research, support, and training.
Training Personnel to Support School Education
 We are also undertaking the training of personnel who support school education more broadly, such as clinical psychologists and experts in international cooperation in education. Over 500 clinical psychologists have now graduated from our university's graduate school, and are now active in a variety of fields including school counseling. In addition, as well as actively promoting programs sending students overseas, we also admit foreign students and overseas educational professionals for training. In 2013, after having operated for many years, our training program was awarded the International Cooperation Recognition Prize by the JICA (Japan International Cooperation Agency).
Our University's Mission
 While we are promoting a variety of reforms in keeping with our mission as a leading university in teacher education, I believe that our university's consistently celebrated mission may be encapsulated in the following aspiration stated by our first president, Prof. Maeda, at the time of our school's founding.
 "While improving the quality of teachers is one of the missions of our school, this is more than simply instruction in pedagogical theories, knowledge, and techniques. Education is a pursuit that involves interacting with children on a personal level. It is premised on internal ties with children and a humanistic love; I hope to continue to cultivate this spirit among our teachers. The training of teachers bolstered by this humanistic love and sense of purpose is also part of our mission as a university."
The Child's Spirit and the Adult's Wisdom
 To restate Prof. Maeda's aspiration in my own words, I would frame it as "teachers who cherish the child's spirit and the adult's wisdom."
 When you first enrolled in elementary school, do you remember how imposing the students in sixth grade, the teachers, and the schoolyard itself seemed? Do you remember the joys and sorrows of childhood? It is precisely because we have not forgotten the spirit of childhood that we are able to be there for children and offer sympathy.
 In order to understand the value of the childhood spirit, we must learn from the wisdom of experience as adults. While knowledge and technique are important, these do not alone constitute adulthood wisdom. For example, we may observe conflict and antagonism between the standpoint that emphasizes group discipline and rules in the classroom and the standpoint that emphasizes spontaneity and expressions of students' individual spirit. When there are no simple right answers, we must seek answers by consulting our colleagues and giving consideration to various perspectives. The very act of seeking answers in this way could be said to be the adult's wisdom.
The Confidence to Teach and the Humility to Learn
 While education is a pursuit that involves interacting with children on a personal level, at the Naruto University of Education, I urge you to interact on this personal level not only with children, but also with the university's faculty members and your fellow students. By the time you graduate, I hope that you will have deepened and expanded your intrinsic capacities for the confidence to teach and the humility to learn both as teachers and as human beings.
Let us learn together here at the Naruto University of Education.