Message from the President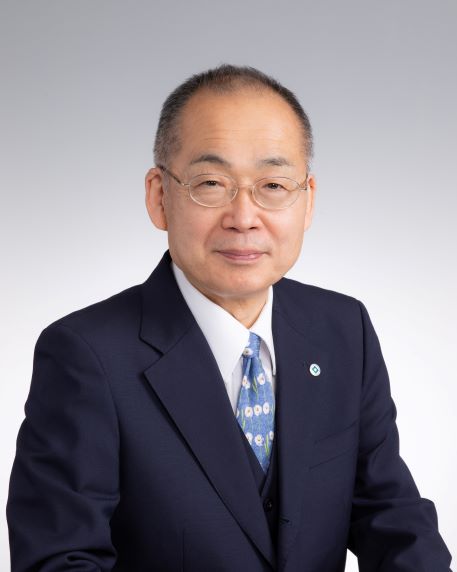 President's Message, 2022
 SAKO Hidekazu
Philosophy behind the establishment of the University
 Naruto University of Education was established in 1981 as a new-concept university with the philosophy of a "university for teachers." The university aims at training not only new teachers but also in-service teachers at its graduate school. Since its inception, the University has made significant contributions to, and has been leading in teacher training research and practice (both new teacher training and in-service instructor education) in Japan.
 The first president, Yoshiaki Maeda, was committed to building a campus based on the idea of "the environment as a silent teacher." The University believes that a single visit to its beautifully maintained campus is enough to convince prospective students that the campus is an unrivaled environment for educational immersion.
 Naruto University of Education is blessed with an environment rich in natural beauty and culture. The University is located in a scenic area adjacent to the Setonaikai National Park. Majestic whirlpools can be seen in the Naruto Strait near the University. Naruto is also home to Ryozen-ji Temple, the first temple on the Shikoku 88 Temple Pilgrimage. Nearby is the Otsuka Museum of Art, which houses ceramic reproductions of major international works of art.
Mission
 The University's primary mission is to foster a corps of outstanding teaching professionals who can be counted on to contribute to society. As a pioneer in teacher education, Naruto University of Education is relentless in its pursuit of excellence and innovation. The strength of the University lies in a cohort of faculty and staff who work together to carefully nurture each student as a teacher. The University's new teacher training is exceptional, as evidenced by the fact that it has achieved the highest employment rate for undergraduate teachers in Japan 10 times in the 12 years since 2010, and has ranked near the top in the other years.
A campus of diverse interaction
 Despite its small size, the Naruto University of Education campus fosters interaction and learning among students from various backgrounds. In-service teaching professionals from all over Japan are enrolled in the graduate school. There are numerous opportunities for experienced and aspiring teachers to learn alongside one another. The University also accepts many international students from developing countries (teachers and educators supported by the Japan International Cooperation Agency), offering local students with abundant opportunities to interact with peers from developing countries.
 The faculty at the University is also diverse. Researchers conducting exceptional research in their respective specialty fields, as well as practitioners with a wealth of practical experience in teaching fields, are working together to improve teacher education. In addition, students receive individual guidance from support staff (advisors, coordinators) to help them improve their practical abilities as teachers.
 Naruto University of Education has established an educational environment and educational guidance system to nurture outstanding professionals in the field of education.
The teachers that Naruto University of Education produces
 Naruto University of Education seeks to develop students into a specific type of instructor.
 Society will continue to undergo dramatic changes. In addition to the rapid advancement of information and communications technology (ICT), society will require mutual understanding and cooperation among diverse peoples. Education will also change accordingly.
 Naruto University of Education has created a teacher training curriculum that addresses issues that future teachers will face, such as the use of ICT and understanding diversity. Furthermore, the University seeks to nurture teachers who can proactively tackle a variety of issues, gain a greater appreciation for themselves as teachers, and strive for personal growth. By continuing to study the art of teaching independently, teachers can nurture themselves as teaching professionals—as teachers committed to self-development. Many of the challenges teachers face tend to have no clear solution. Consider, for example, the child who is unable to solve a math problem when using a standard teaching approach. There is no single correct answer for how the teacher should deal with such a child. The teacher needs to meet the child where they are, show sincerity and empathy, plan the best way forward, and then put this plan into action. The teacher who has used the standard teaching method could simply say, "It's of no use," and give up. This, however, is not a viable option. Rather, the teacher must actively repeat inquiry and practice until the child has a thorough understanding of the subject matter, a process that benefits both the child and the teacher. Naruto University of Education prepares teachers to investigate and work toward solutions to problems that lack clear answers.
 It is for this very reason that Naruto University of Education promotes "DX (Digital Transformation) geared to teacher training," enabling students to better understand their own learning styles while studying to become a teacher. By combining "DX" with a teaching system based on "caring for others," a strength of Naruto University of Education, the University creates a model for new teacher training of the next generation of teachers, achieving its mission of training "a corps of outstanding teaching professionals."
A university that strives to support the continuing education of teachers: Distance Education at the Graduate School of Teacher Education
 "Continuous independent learning" will be a must for future teachers.
  Many in-service teachers who attend Naruto University of Education's Graduate School of Teacher Education are sent there by their respective Boards of Education. Meanwhile, as many or even more are current teachers with high learning needs who their Boards of Education may be unable to send to graduate school. This includes teachers who find going to graduate school difficult owing to school-related or family circumstances, as well as those who work in private schools (including kindergartens).
  Established as a university for teachers, Naruto University of Education not only offers learning opportunities to those sent over by their Boards of Education, but has also developed and provides an educational program—under the concept of "a graduate school of teaching for working teachers"—for teachers who must study while continuing to work in the classroom. This educational program not only considers the difficulties of learning while working, but also takes advantage of the benefits of studying while working. Naruto University of Education's Distance Education Program at the Graduate School of Teacher Education provides working teachers with a flexible course format, detailed guidance on individual issues encountered by graduate students, and access to advisors who carefully respond to learning-related and anxiety problems. At the same time, in order to capitalize on the benefits of learning while working, the University seeks to "integrate" theory and practice by incorporating guidance that connects learning at the Graduate School with the student's daily work as a teacher.
A cutting-edge teacher education model
 The five national universities in the Shikoku Region have collaborated to establish a system that allows mutual utilization of the teacher training education (teaching qualification course), which is another important aspect of the education provided by Naruto University of Education. This was done with the idea of developing an appealing and rich teacher-training course (the establishment of a joint teacher-training course) through active collaboration of the five national universities in Shikoku.
 Students will be able to take classes not only from Naruto University of Education, but also from Kagawa University, Ehime University, Kochi University, and Tokushima University in the three subjects of art, home economics, and high school information (this will begin with the class of 2023. The subjects that can be taken at other universities will vary depending on the type of license the teacher is pursuing). This program will enable the students of Naruto University of Education to take meaningful courses at other national universities in Shikoku.
A leader in teacher education
  In order to fulfill its mission of developing a corps of outstanding teaching professionals, Naruto University of Education is committed to developing and implementing an outstanding teacher education for students studying to become teachers, working adults, and in-service instructors. Through this process, Naruto University of Education hopes to contribute to society as a leader in teacher education in Japan.