Message from Director of International Cooperation Center for the Teacher Education and Training
Purpose
In collaboration with relevant nations, organizations, and universities, INCET conducts research and development regarding the planning, implementation, and evaluation of international cooperation projects for many countries and regions which aim for educational improvement. At the same time, the center aims to develop talent that can proactively respond to internationalization by sharing our accumulated methods and programs of teacher training and in-service education, and experiences in international educational cooperation for the common good. Since INCET was founded in April 2005, the center has been working on the dispatch of experts to the Lao People's Democratic Republic, the Republic of South Africa, Mozambique and the Islamic Republic of Afghanistan, the survey on the educational situation of Ethiopia and the Arab Republic of Egypt, and the joint studies with guest professors from Korea, the Philippines, and Thailand, as well as compiling a database of materials about our international cooperation activities.
Organization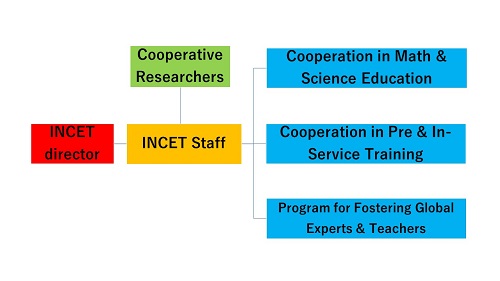 INCET pursues to carry out the following three activities:
Research & development in science and math education cooperation; Research, development, results sharing and communication about science and math education cooperation operation
Research & development in international cooperation related to pre and in-service teacher training
Development of program for fostering experts of international educational cooperation, teachers who are dedicated to education for international understanding
Researcher system
This is a system to facilitate the participation of researchers in joint studies based on the plans of INCET and conduct these studies cooperatively. The researchers are those at universities and other education and research organizations, and people who have the same education and research capabilities. The joint research group consists of in-house researchers (teachers at Naruto University of Education) and external researchers who belong to other organizations.